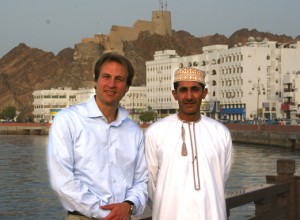 David Santulli is the Executive Director and founder of United Planet, a nonprofit organization that provides vital services to communities in need and fosters cross-cultural understanding through international volunteering programs.
David created the concept of Relational Diplomacy as a practical method to improve intercultural relations.
Relational Diplomacy is the theory that peace building and improved intercultural relations can occur by creating a vast and intricate web of interpersonal relationships and friendships. Relational Diplomacy is instrumental to his work at United Planet.
David lived in Tokyo, Japan for nine years as the CEO of a Tokyo-based trading company.
He holds a Master's of International Affairs from the Fletcher School of Law and Diplomacy at Tufts University in Boston, attended St. Louis University's International Business and Spanish Language program in Madrid, Spain, and graduated Magna Cum Laude from Loyola University in Baltimore, Maryland.
David has been a teacher in US public schools, and a certified accountant and financial consultant for Price Waterhouse.
In addition to living in various parts of the world for a significant portion of his life, David has traveled to over 100 nations and has studied Spanish, Japanese, and Russian.